General information
Relevance
The global prevalence of glaucoma for a population aged 40 to 80 years is 3.54%.
The number of people with glaucoma worldwide will increase to 111.8 million by 2040.
Glaucoma is the main cause of blindness after cataracts.
10% of people with glaucoma who receive proper treatment still experience vision loss.
Existence of analogues: By separate mechanisms of action, analogues are latanoprost, bimatoprost and travoprost. By the mechanism of neuroprotective action there are no analogues.
Serinoprost (SRP)
Therapeutic area: (S01EE - Analogs of prostaglandin).
Nosological classification (ICD-10):
H40.0 Suspicion of glaucoma
H40.1 Primary open-angle glaucoma
Innovative status: original individual molecule with the best in class potential
Planned dosage form: eye drops
Type of molecule: small hybrid molecule based on endogenous pharmacophores from the family of eicosanoids and amino acids; 20 new prostaglandin F2 alpha derivatives were selected from the library.

Hypotensive effect of SRP
Decrease in intraocular pressure, Mmhg. Normotensive model, rabbits, n = 10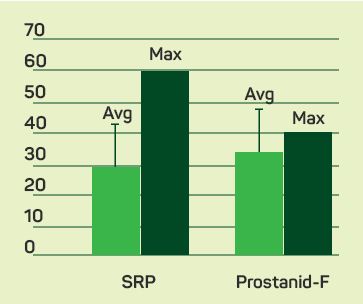 The concentration of substances is 100 μg / ml, One drop in each eye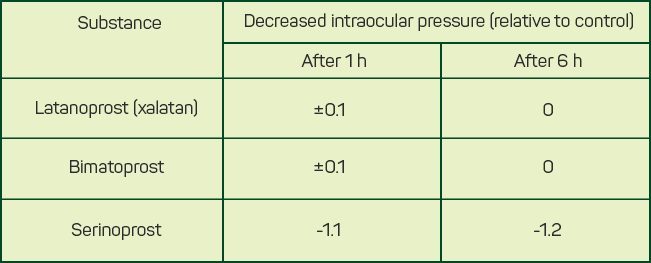 The experiments were conducted at the Helmholtz Research Institute of Eye Diseases
Serinoprost acts like an endogenous regulator, but surpasses it in maximum effect
Anti-ischemic action
Blood flow increase,% relative to control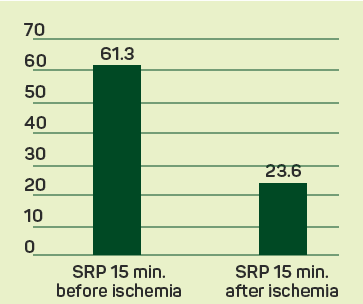 Change in the minute volume of blood flow in the eye of a rabbits 30 minutes after the development of ischemia during SRP instillation
SRP has a protective effect on ischemia of the eye both before and after the development of ischemia
Mechanism of action
Biotarget. Interaction with the Prostanoid FP Receptor Functional response
Increased intracellular calcium concentration (excess over control values) in response to interaction with the FP receptor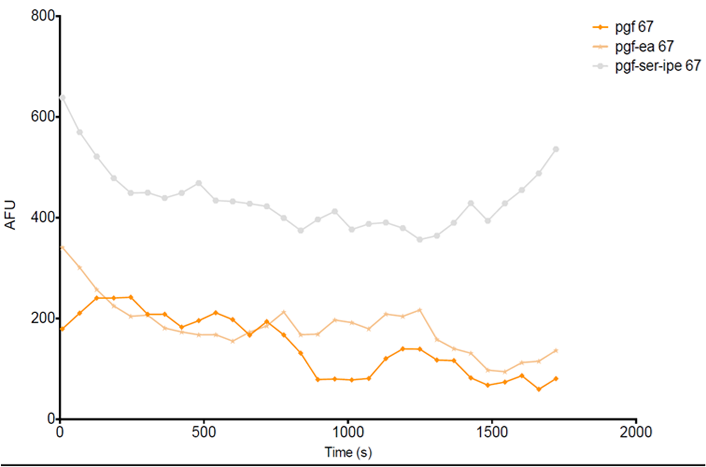 Serinoprost acts similarly to endogenous prostaglandin F2 alpha and prostamide F2, but the response is more pronounced and is approximately equal to the sum of the effects of natural regulators. Ca2+ response, 67 μM, incubation 10 min.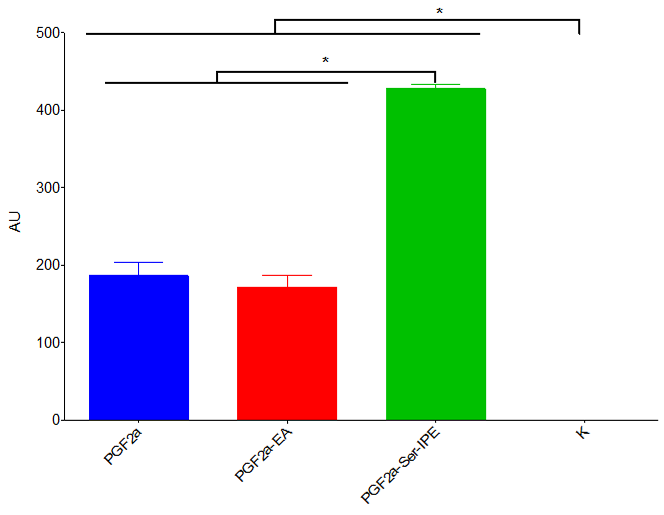 Ca2+ response , concentration 67 μM, incubation time 10 min, control subtracted. *- significant difference between groups.
FP receptor expression in mouse 3T3-L1 cells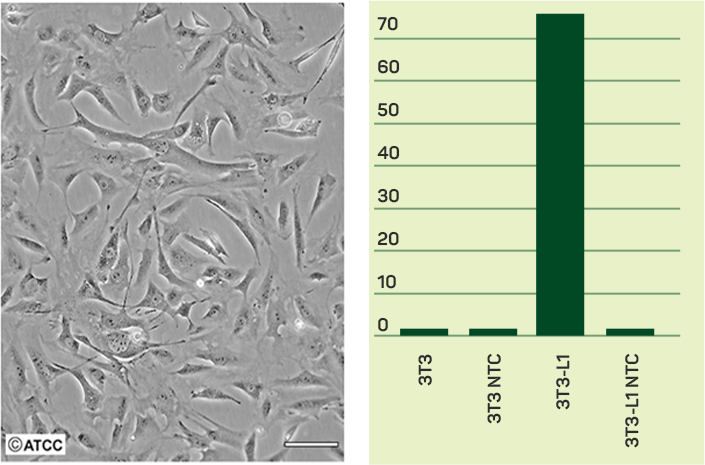 Primers for musFPR
CATGAAGGCCTACCAGAGATTTAGTTGATAAG
Anti-ischemic action
SRP provoked NO generation in 3T3-L1 cells
The increase in NO (nitrite),% relative to the control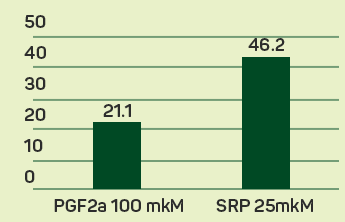 Serinoprost induces nitric oxide production and increases the expression of the NO synthase gene in 3T3-L1 cells
Enhanced iNOS Gene Expression in 3T3-L1 Cells by SRP
INOS mRNA level relative to β-actin mRNA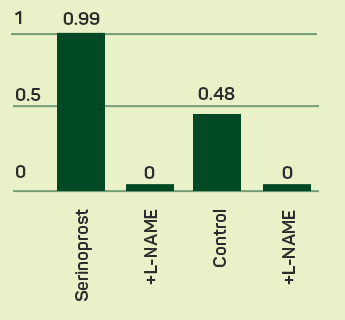 Toxicity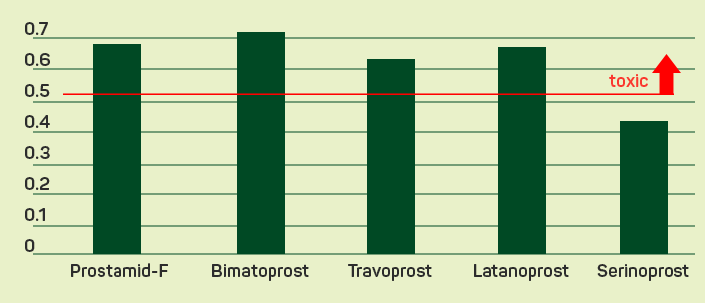 Calculation of the expected toxicity of the compound for 15 targets
in the VirtualToxLab ver. 5.8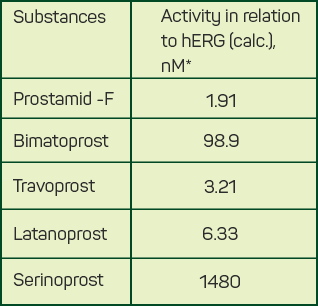 *the higher the value the safer
Mouse 3T3-L1 Cells
LC50 >> 100 μM
Activation of the FP receptor (as in latanoprost and travoprost).
Activation of a prostamide receptor (not yet precisely identified, as in bimatoprost).
Activation of endogenous NO synthase, mobilization of endogenous calcium.
The activity resulting from the activation of mechanisms:
Reducing intraocular pressure through regulation of the outflow of intraocular fluid along the uveoscleral pathway and trabecular network.
Protective effect on retinal neurons due to anti-ischemic activity.
As part of the project, additional studies will be carried out to clarify the mechanism of action of the hybrid molecule.